CAR HIRE 
A range of sizes of car are available from:
Deeping Car and Van Hire
Boundary Garage
Main Road
Deeping St Nicholas
PE11 3DL
Telephone:  01778 344493
Email: info@deepingcarandvanhire.co.uk
Website: www.deepingcarandvanhire.co.uk
CARAVAN SERVICING AND REPAIRS
We are pleased to have two caravan engineers who visit our adjacent storage facility to service caravans.  Should you require an emergency repair whilst on site it may be possible that one of these would be able to help you.
Richard Lawson (Grantham Leisure - Approved Workshop):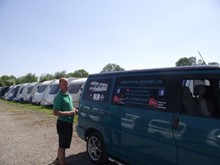 Telephone: 07980 919030
Email: info@granthamleisureltd.co.uk
MOTORHOME SERVICING
Motorhome customers may appreciate the opportunity to have their vehicle serviced or checked at the nearby premises of Hollis Autotech Limited, Frognall (1.3 miles) from our site. They also fit tow bars to motorhomes.
Contact www.hollisautotech.co.uk  for full details.