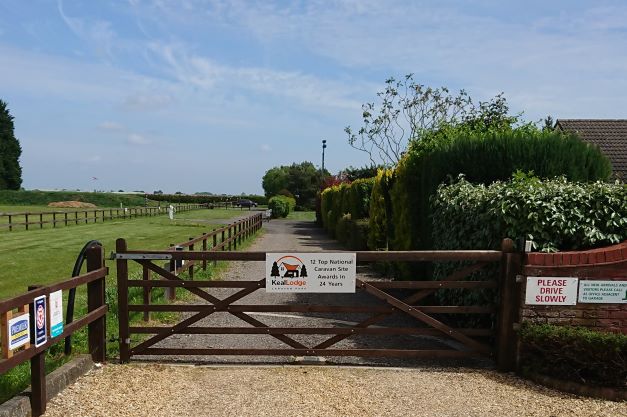 Directions
Please note that Market Deeping is a beautiful Georgian market town with narrow streets and on road parking.  Approaching through these with a caravan or motorhome is not at all advisable.
Please do not use Satellite Navigation systems as they direct you through the narrow streets of the village.
The A1175 from Stamford to Spalding may, in older atlases, still be indicated by its old number (A16).
Ordnance Survey sheet 142: Grid Reference TF164095
Directions from Stamford (west):
Leave Stamford on the A1175 (signposted Market Deeping and Spalding)
Continue on this road for 6.5 miles until you reach the Welland Gate Roundabout (the name of this roundabout is on the sign as you approach the roundabout)
Take the first exit and continue on the A1175 / A15 (signposted Spalding and Sleaford) - do not go straight across to Market Deeping...
Continue for approximately half a mile until you reach another roundabout
Take the second exit, remaining on the A1175 (signposted Boston and Spalding)
In approximately 2.5 miles turn right onto the B1525 (signposted Deeping St. James)
In approximately 1.5 miles immediately after the 'Frognall' village sign turn left into 'Hards Lane' (signposted Crowland)
In 0.5 miles the road bears right into 'Custom Road'
In a further 0.5 miles, at the minor crossroads, turn right into 'Stowgate Road' which is a continuation of the B1166 and is (signposted Deeping St. James)
In 0.5 miles turn right into 'Back Lane'
The site is on the right in 350 yards with a sign 100 yards before the entrance
Directions from Peterborough (south):
Leave A1 northbound at junction 17 (Peterborough Services) onto A1139 signposted Peterborough
Keep right on the slip road to join the A1139
Continue on A1139 for approximately 6.5 miles at which point you will reach a roundabout
At the roundabout take the first exit onto Paston Parkway, A1139 (signposted Sleaford)
At the A47 junction continue following the A15 north for approximately 6 miles (still signposted Sleaford)
Just after Lincolnshire border sign you will approach the Welland Gate Roundabout do not turn right towards Market Deeping...
Take the second exit and continue to follow A15 (which for this short stretch is also the A1175)
Continue for approximately half a mile until you reach another roundabout
Take the second exit, remaining on the A1175 (signposted Boston and Spalding)
In approximately 2.5 miles turn right onto the B1525 (signposted Deeping St. James)
In approximately 1.5 miles immediately after the 'Frognall' village sign turn left into 'Hards Lane' (signposted Crowland)
In 0.5 miles the road bears right into 'Custom Road'
In a further 0.5 miles, at the minor crossroads, turn right into 'Stowgate Road' which is a continuation of the B1166 and is (signposted Deeping St. James)
In 0.5 miles turn right into 'Back Lane'
The site is on the right in 350 yards with a sign 100 yards before the entrance
Directions from Sleaford/Bourne (north):
Follow the A15 from Bourne and proceed through Langtoft
In approximately 0.5 miles at the roundabout turn left onto A1175 (signposted Spalding/Boston)
In approximately 2.5 miles turn right onto the B1525 (signposted Deeping St. James)
In approximately 1.5 miles immediately after the 'Frognall' village sign turn left into 'Hards Lane' (signposted Crowland)
In 0.5 miles the road bears right into 'Custom Road'
In a further 0.5 miles, at the minor crossroads, turn right into 'Stowgate Road' which is a continuation of the B1166 and is (signposted Deeping St. James)
In 0.5 miles turn right into 'Back Lane'
The site is on the right in 350 yards with a sign 100 yards before the entrance
Directions from Spalding/Boston (east/north east):
Follow the A1175 from Spalding (signposted Stamford)
Proceed through Deeping St. Nicholas - after passing the delimit sign and the 'South Kesteven' district sign turn left onto the B1525 (signposted Deeping St. James)
In approximately 1.5 miles immediately after the 'Frognall' village sign turn left into 'Hards Lane' (signposted Crowland)
In 0.5 miles the road bears right into 'Custom Road'
In a further 0.5 miles, at the minor crossroads, turn right into 'Stowgate Road' which is a continuation of the B1166 and is (signposted Deeping St. James)
In 0.5 miles turn right into 'Back Lane'
The site is on the right in 350 yards with a sign 100 yards before the entrance
Directions from Wisbech (east):
From Wisbech follow the A47 to Peterborough
At the junction with the A15 (Gunthorpe) turn right at the roundabout onto the A15 north (signposted Sleaford)
Follow the A15 north for approximately 6 miles (still signposted Sleaford)
Just after Lincolnshire border sign you will approach the Welland Gate Roundabout do not turn right towards Market Deeping...
Take the second exit and continue to follow A15 (which for this short stretch is also the A1175)
Continue for approximately half a mile until you reach another roundabout
Take the second exit, remaining on the A1175 (signposted Boston and Spalding)
In approximately 2.5 miles turn right onto the B1525 (signposted Deeping St. James)
In approximately 1.5 miles immediately after the 'Frognall' village sign turn left into 'Hards Lane' (signposted Crowland)
In 0.5 miles the road bears right into 'Custom Road'
In a further 0.5 miles, at the minor crossroads, turn right into 'Stowgate Road' which is a continuation of the B1166 and is (signposted Deeping St. James)
In 0.5 miles turn right into 'Back Lane'
The site is on the right in 350 yards with a sign 100 yards before the entrance