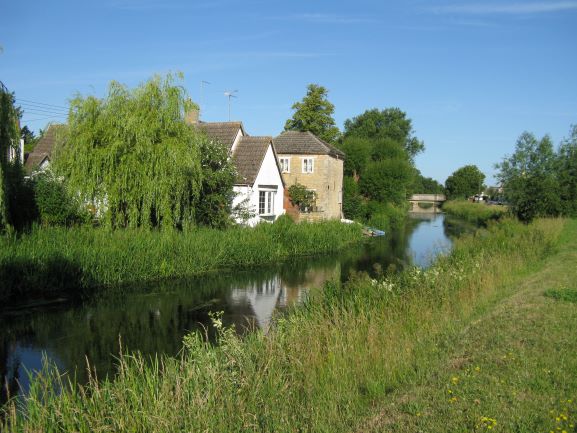 The area around the site and beyond is perfect for walkers and cyclists. 
The level terrain lends itself perfectly to those who enjoy a good walk without the tiring prospect of hills!  Close to our site there are a multitude of opportunities for walks alongside the rivers, through historic villages and traversing the local rural landscape. Details of walks are available from the Information Centre on site. Rutland Water is surrounded by a network of footpaths and byways which will occupy the enthusiastic walker for many days. 
Cyclists will enjoy the ability to maintain a steady speed whilst watching the varied local landscapes pass them by.  The site is located very close to Peterborough's 'Green Wheel' which is a nationally recognised cycle route used by cycling enthusiasts from across the country.  The Green Wheel is a network of routes in and around the city created as part of a Millennium project. Enthusiastic cyclists from far and wide visit Rutland Water to enjoy the cycle route which circles the reservoir.  This makes a great day out for those who enjoy the outdoor life. 
WHAT'S ON LOCALLY Click here for an update on local events
Places to visit in the area include:
MARKET DEEPING (1 mile)
The market village of Market Deeping with its local shops, services, good eating, swimming pool, leisure centre, market, nature walks, golf and fishing.
Visit the Deepings http://www.southwestlincs.com/visit-the-deepings/    
Deeping Lakes & Wildlife Trust https://www.lincstrust.org.uk/nature-reserves/deeping-lakes 
MARKET DEEPING ANTIQUES (1 mile)
Market Deeping Antiques & Craft Centre - this centre holds craft workshops please contact them for details (01778 380238)
STAMFORD (8 miles)
The historical market town of Stamford with its cobblestone roads and period houses which have been used in many TV series. It has a large market on Friday. Burghley House and Gardens is on the outskirts.
Stamford http://www.stamford.co.uk/           
Burghley House & Gardens https://www.burghley.co.uk/
RUTLAND WATER (16 miles)
The largest reservoir (and second largest lake) in England, Rutland Water is a key playground of the East Midlands with Water Sports, Nature Reserve, Outdoor Adventure Centre, Cycling and Walking facilities. 
Rutland Water https://www.discover-rutland.co.uk/discover-rutland/rutland-water
CROWLAND (6 miles)
The village of Crowland is famous for its medieval (716AD) Crowland Abbey and the curious Triangular bridge.
Crowland http://parishes.lincolnshire.gov.uk/Crowland/
BOURNE (7 miles)
Bourne is a small market town with its Heritage centre, nearby Grimsthorpe Hall and Bourne Woods (which is good for dog walks).
Bourne http://www.thisisbourne.co.uk/
PETERBOROUGH (8 miles)
The Cathedral City of Peterborough boasts a variety of museums and theatres, a football league club and large shopping centre, festivals, markets. The Nene Valley Railway and the East of England Showground, with its numerous prestigious events are nearby.
Visit Peterborough http://www.visitpeterborough.com/ 
Peterborough arena https://www.youreventspace.co.uk/ 
East of England Showground https://www.eastofengland.org.uk/
SPALDING (11 miles)
The historical market town of Spalding is famous for Ayscoughfee Hall, water taxis, Spalding Farmers Market (1st Saturday of the month), Wednesday and Saturday Markets, Springfield Outlet Village and Gardens and a wide variety of other shops.
Spalding http://spaldingnet.com/
Ayscoughfee Hall https://www.sholland.gov.uk/ayscoughfee
Springfields Outlet Shopping https://springfieldsoutlet.co.uk/           
BOSTON (29 miles)
Boston is an ancient port, with its famous Boston Stump church tower, working windmill and large market on Wednesdays and Saturdays.
Boston http://www.visitbostonuk.com/
'Great Days Out' with CAMC:
The Big Shoot, Peterborough - Opposite the Pill Box, Bukehorn Road, Thorney, Cambridgeshire, East Anglia, PE6 0QG
10% off for CAMC members www.thebigshoot.co.uk 
Barnsdale Gardens, The Avenue, Exton, East Midlands, LE15 8AH 
Two for the price of one for CAMC members www.barnsdalegardens.co.uk
Jump This - Peterborough (Skydiving), Sibson Airfield, Wansford, Cambridgeshire, East Anglia, PE8 6NE 
10% off for CAMC members www.jumpthis.co.uk

Go Falconry - Wisbech St Mary, Station Road, Cambridgeshire, East Anglia, PE13 4RY 
10% off for CAMC members www.gofalconry.co.uk

For a day out slightly further afield:
Althorp House & Grounds - Open July & August  
https://www.historichouses.org/houses/house-listing/althorp.html
https://spencerofalthorp.com/
Anglesey Abbey & Gardens
https://www.nationaltrust.org.uk/anglesey-abbey-gardens-and-lode-mill
Battle of Britain Memorial Flight
http://www.raf.mod.uk/bbmf/
Belton House
www.nationaltrust.org.uk/main/w-vh/w-visits/w-findaplace/w-beltonhouse/
Belvoir Castle
www.belvoircastle.com
Duxford Aircraft Museum
http://duxford.iwm.org.uk/
Deene Park
www.deenepark.com/
Elton Hall and Gardens
http://www.eltonhall.com/
Grimsthorpe Castle Park and Gardens
http://www.grimsthorpe.co.uk/
Nene Valley Railway
http://www.nvr.org.uk/
Rockingham Castle
http://www.rockinghamcastle.com/
Sandringham House and Gardens
http://www.sandringhamestate.co.uk/
Shuttleworth Collection Aircraft Museum
http://www.shuttleworth.org/
Welney Wetland Centre
https://www.wwt.org.uk/wetland-centres/welney/#
Wimpole Hall
https://www.nationaltrust.org.uk/wimpole-estate
Cambridge, Lincoln, Leicester and Northampton are all no more than one hour driving time away. Leaflets for these and more are in the information centre on the site.
London is only an hour away by train. Why not take a train from Peterborough for a day out in London, see a show and get the late train back to the comfort of your own caravan?
Don't forget to check the opening times of the attractions you wish to visit!